MAY FIELD TRIP: Fruitland Methane Seeps and Hydrology of the Durango Area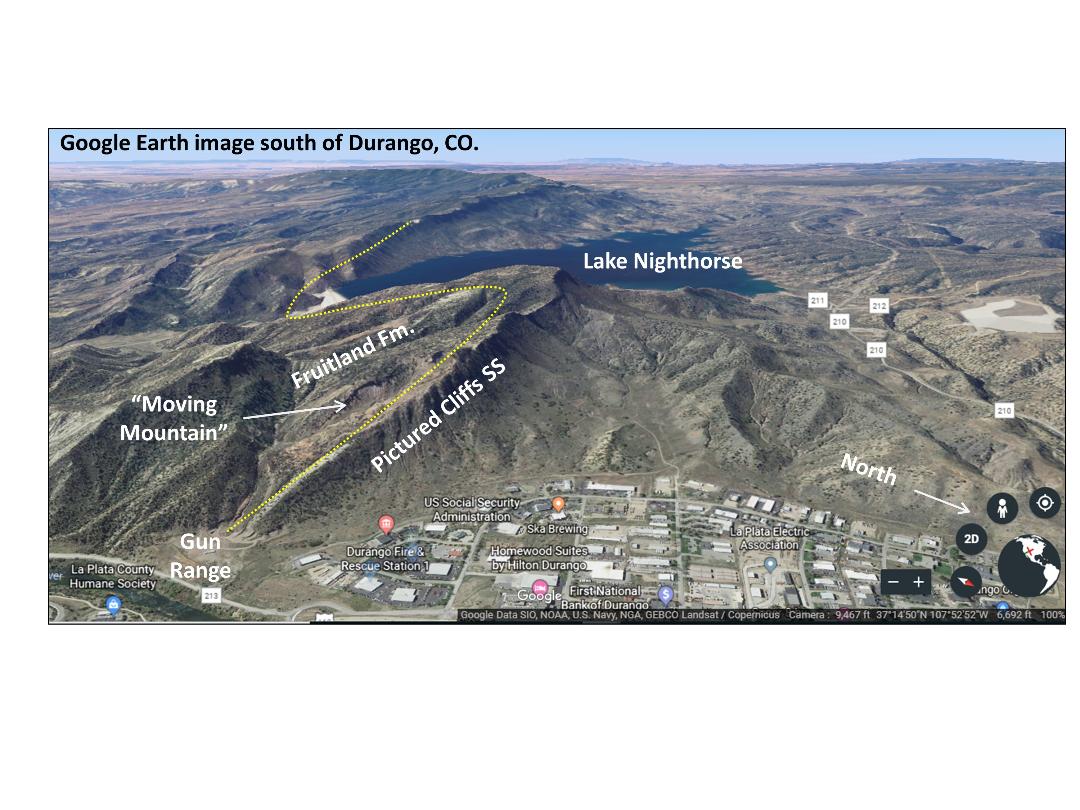 Description:
This is a day trip out of Durango.  The timing, in mid-May, coincides with spring high water tables that showcase bubbling methane seeps along the Fruitland coal outcrop that rims the northern San Juan Basin.  Participants will learn about Fruitland Formation geology, coal bed methane production, historic methane seeps, underground coal fires and how methane seeps are now detected, monitored and mitigated. They will also learn about related hydrology issues spanning Longhollow reservoir in the west to the Pine River to the east including Fruitland water rights, litigation and modeling.
Note – minimal hiking but wear boots or sturdy shoes.
Download Trip Guidebook
here
Itinerary:
·   Meet at 7:40am in Office Depot parking lot in Bodo Park, behind Durango Joes drive-thru to board vans.
·   Stops (from west to east) include Long Hollow Dam, the Cinder Buttes underground coal fires, Valencia gap methane gathering system, lunch at Dallabetta Park, Moving Mountain, Lake Nighthorse Dam, Palmer Ranch seeps, the reverse French drain remediation system on Texas Creek and BP's history at Pine River Ranches.
·   We should be back in Durango by 4:30pm.  After the trip relax with the
 group
 at Ska!
Number of Participants:
·   Limited to 28.
Transportation:
·   Vans. Note – no private vehicles allowed due to stipulations of Southern Ute crossing permit.
·   Fee: $35 per person.  Includes transportation, snacks & permits.
·   BYO lunch and refillable water bottle.
Handouts:
·   Will be available in pdf format on our website.
·   Download and print your own before the trip.
Registration:
·   Opens April 1st at 6:00 am MST through the Four Corners Geological Society website!
·   Must be a member to participate.
Cancellation Deadline for Refund:
·   May 1st.
Please bring a signed copy of the Field Trip liability release with you on May 11 to our assembly point near Office Depot.  Download the waiver here: Methane Hydro Release Form