JUNE FIELD TRIP: Geology of the Ouray Area
June 1, 2019

-

June 2, 2019

$85.00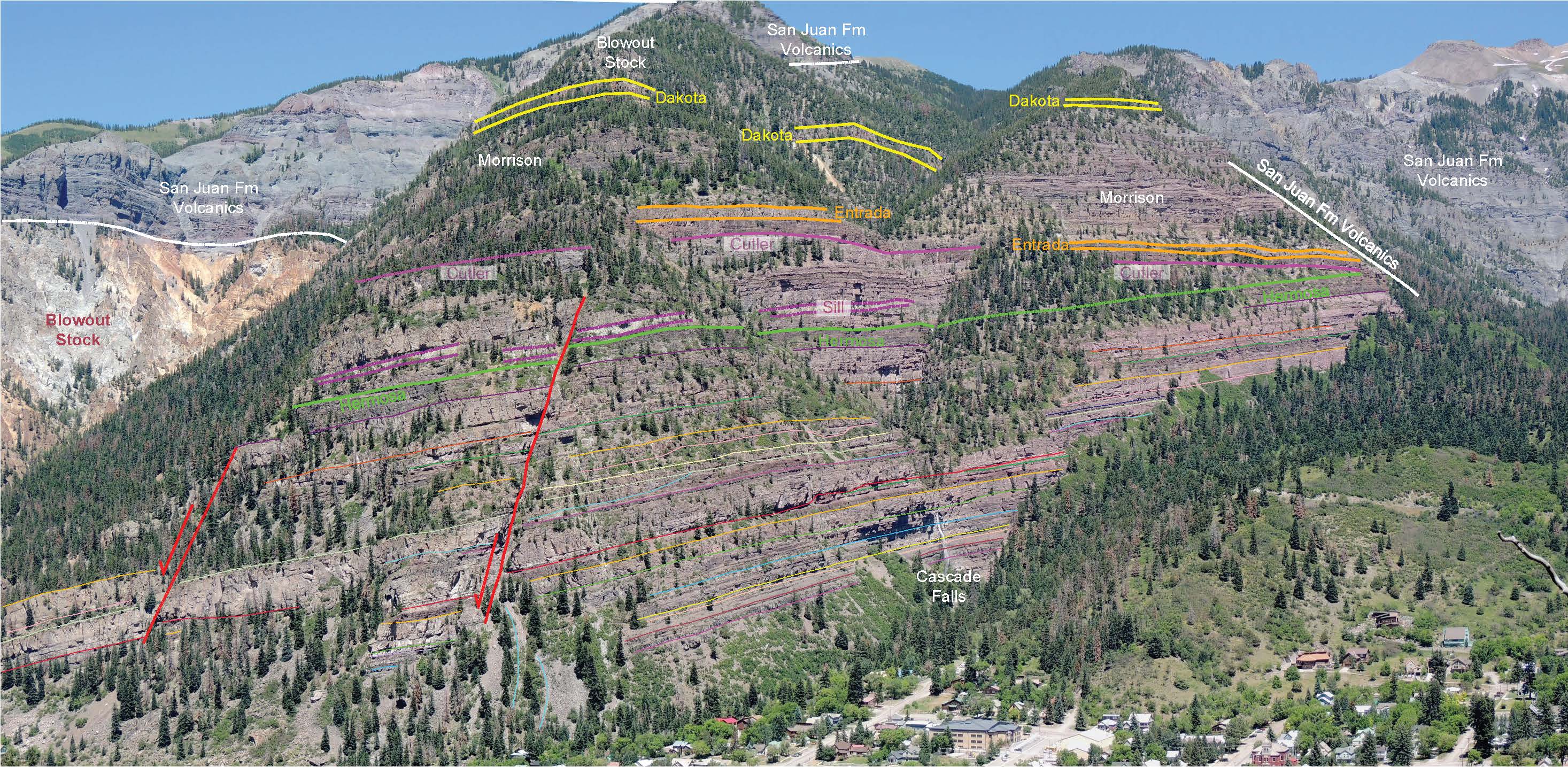 This 2-day trip will explore geologic history of the Ouray area which spans 1700 Ma and preserves a nearly complete Paleozoic to Cenozoic history punctuated by mountain-building events, magmatism, and mineralization.  This area has been called the Switzerland of Colorado for good reason, as it provides an excellent and diverse history presented in a steep, mountainous terrain.  With stops and short hikes, we will explore Proterozoic to Cenozoic events recorded in the Ouray area with emphasis on Proterozoic basement, Pennsylvanian-Permian tectonics and depositional histories, 70 to 5 Ma magmatic events, and mineralization.
June 1, Saturday: Proterozoic basement history and Cambrian-Pennsylvanian record, San Juan Formation.
June 2, Sunday: Ancestral Rockies uplift and sedimentation, overview of Cenozoic history, magmatic history and clastic dikes, and selected stops focused on mineralization.
Itinerary:
Pre-trip social hour May 31, ~5:30 to ~7:30pm on Ouray Brewery rooftop.
Meet at 7:40am both mornings in Hot Springs parking lot at the north end of town. We will consolidate into carpools and non-drivers can leave their vehicles in the parking lot.
We will provide make-your-own lunches and lunch beverages.
** Included in trip fee** Enjoy Saturday night dinner catered by Secret Garden.
We will return each day by 5:00pm.
Please Note – moderate hiking so please wear hiking boots or sturdy shoes.
Transportation: – Carpools
We need drivers with a vehicle that can carry 4 to 8 people, preferably 5 or 6
Caravan size needs to be limited to around 6 vehicles
Meals:
Fee: $85 per person Includes lunches, Saturday dinner, snacks, water & lunch drinks.
Guests not attending field trip may join us for Saturday Dinner for $30.
Handouts:
Lodging
You should reserve your hotel room soon!  Memorial Day (the weekend before our trip) marks the start of the busy season in Ouray (you can always cancel later if needed). The Ouray area offers several overnight options to choose from.  Click Here For Ouray Visitors Bureau Lodging
We have blocked out rooms at the Twin Peaks Lodge and Hot Springs for the nights of May 31 and June 1.
Click Here for Twin Peaks Reservation  Rate will be $125/night for a King or 2 queens.  This rate is good until May 1.  To register online Enter 26726 in "Group ID" box right above the "Check Now" button.  To register by phone, ask for the Four Corners Geological Society rate or Group Code 26726.
IMPORTANT NOTE: Twin Peaks cancellation deadline for this rate is May 1.
Registration:
Opens April 19 at 6:00AM MST through the Four Corners Geological Society website.
Must be a member to participate. To Join FCGS: Click Here to Become a Member
Cancellation Deadline for Refund for FCGS FIELD TRIP:
Please bring a signed copy of the Field Trip liability release with you on June 1 to Ouray.  Download the waiver here: Ouray Field Trip Release Form